Map Unavailable
Date/Time
Date(s) - June 5, 2021
All Day
Categories
On June 5, 2021, Midwest Native Plant Society, in partnership with Cincinnati Wild Ones and Dayton Wild Ones, chapters of National Wild Ones, will be hosting the first Homegrown Habitats Yard Tour. A special thanks to the OSU Bee Lab for their support.
This tour includes 14 locations from Cincinnati to Dayton and Yellow Springs. You may choose to do a marathon tour and see them all, or a more leisurely tour by visiting just several locations. Everything is on your own – lunch, routes, etc. We are providing you the opportunity to meet native plant enthusiasts and find inspiration in their gardens. It's like a workshop with only field trips being offered!
So take the tour and experience firsthand how homeowners have converted their landscapes into "living" gardens of biodiversity by using native plants. Instead of a "wow look at all those blooms and colors" garden tour, this is a "wow I didn't think these native plants liked shade" or "I'm so glad I got to meet this person and hear about how they've developed their garden over time" and "I can't wait to get spicebush swallowtails in my yard". In a relaxed atmosphere, gardeners will connect and share stories of what has worked, what hasn't, the challenges, and the sweet rewards that native plants offer, such as increased biodiversity, ecosystem services, plant-animal relationships, a connection to our heritage and natural beauty.
Some locations will have vendors on site selling native plants, and artwork and some will offer our new "Growing Natives Plants for Biodiversity" program including a yard sign for purchase.
Cost for the tour is $25 per person. A program brochure with yard descriptions, locations and vendors will be emailed only to registered participants only about a week before the tour. Registration for attendees and sponsors is open!
Attendee registration Link!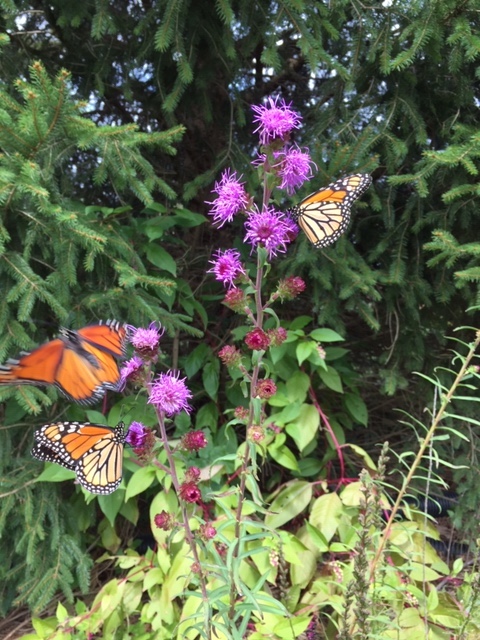 Sponsor registration is open.